The Brackett Support System
Are You Experiencing Foundation Failure?
The term "foundation" means all parts of the support and anchoring system that supports a home and secures it to the ground. This includes piles, footings, slabs, walls, ties, anchoring equipment, ground anchors, or any other material or equipment.
Here's How We Fix Your Home's Foundation
Depending on your situation, Brackett Support Systems offers several different products:
A completely galvanized steel helical pile
Two sizes of cylindrical-shaft helical piles
Commercial concrete caissons for heavier structures
The simple definition of a helical pile is a foundation element that is designed to provide support to your house. They are effective up to 300 years (yes, 300). Concrete Caissons are more expensive, designed for larger structures, and last even longer.
The benefits of helical piles are:

Fast installation
Low cost
Little to low disturbance or vibration during installation.
They can be installed in places with limited access.
No need to remove soil from the work site.
Easily load tested to verify they will do what they're supposed to
They support your house immediately after they're installed in the ground
They can be installed in virtually all weather conditions
They can be used in saturated or contaminated soil conditions
The piles extend down to load bearing soil (meaning where we put them, they stay put) and carry a transferable life-of-structure warranty against any further settling. A qualified representative from our company will review your specific situation and determine which method will most effectively remedy your foundation problem. Not all foundations are created equal, and it is for this reason we make sure we perform the necessary site evaluation and research before making a recommendation.
Brackett Concrete Caissons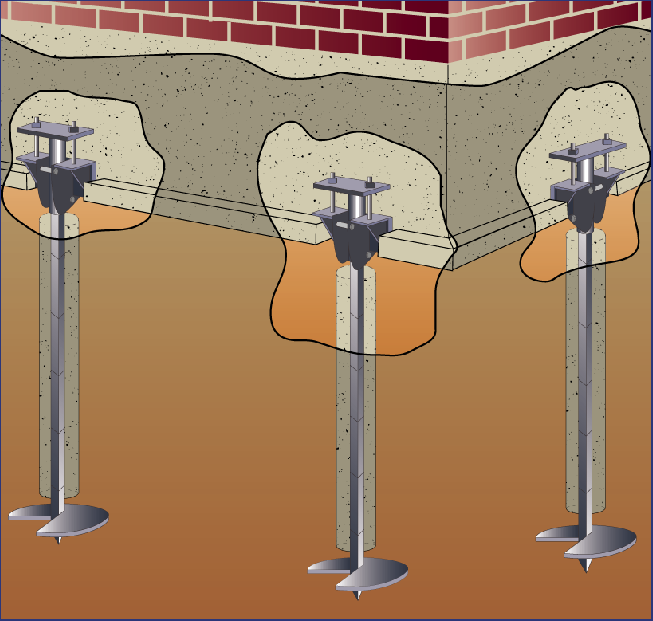 The strongest pileing option, steel reinforced concrete piles are capable of holding commercial buildings as well as heavy residential structures.
Provides excellent lateral and uplift protection.
Galvanized bracket and concrete pile last virtually forever.
Brackett Cylindrical-Shaft Helicals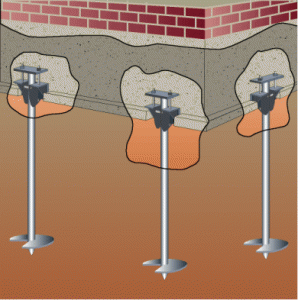 Provides higher support capacity and lateral stability than standard solid-shaft helical piles.
Available in 2.5″ and 3″ nominal shaft sizes.
Ideal for low lands where water tables are nearer to the surface or when loose fill is encountered.
Can be solid grouted following installation to further increase lateral stability.
Fully galvanized for superior corrosion protection.
Brackett Standard-Duty Helicals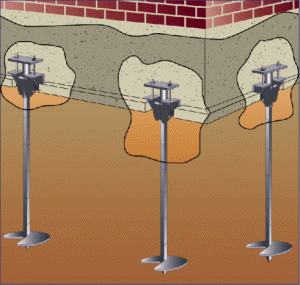 Most affordable means of stabilization for most homes.
Can be used in restrictive overhead areas for easy access.
Can be installed on homes on steep slopes and even in crawl spaces.
Working load 20,000 pounds per pile.
Can be also be used in tieback (retention) applications.
Can have one, to four helix flights.
Fully galvanized for superior corrosion protection.
>Related Services In addition to typical foundation repairs, we also offer additional foundation related services as well.