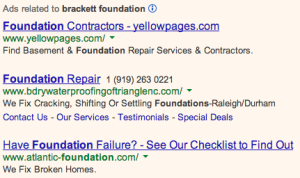 At Brackett Foundation, we are proud of our over 40 years experience in helping our our customers regain their peace of mind as quickly as possible and permanently fixing their foundation issues.
It seems as though some of our competitors feel the same way.
When recently doing a Google search for our company name (Brackett spelled with 2 t's) we were surprised to see our competitors come up in the paid advertising section of the page. In other words, they pay to be associated with our name!
Wonder why?
Thanks for the vote of confidence guys! Our customers already know all about the high quality of work and customer service we provide and the reputation we've earned. We're glad you agree.
Let us help you regain your peace of mind.
Give us a call today at 919-806-5232 or
fill out the form on our web site
. We can help you determine what is likely going on and the best course of action to take so you'll know for sure and take the uncertainty out of your situation.